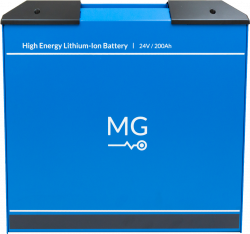 The HE battery series is based on a high energy density battery cell. This means more energy in less weight. The integrated battery management system brings the highest standard on safety and gives insight in the status of the battery. Flexibility in system configuration is created by a modular design. On a system level a voltage range of 25.2 V up to 465 V and a capacity range of 2.5 kWh up to 720 kWh can be created with the 25.2 V modules.
Superior energy density
Integrated battery management system
Scalable system design due to 25.2 V modules
High safety standard
Plug and Play installation
Up to 465 V system voltage
Module
Voltage: 25.2 V
Capacity: 2.5 / 3.75 / 5.0 / 7.5 kWh
HIGH VOLTAGE SYSTEMS
The HE batteries are available in a high voltage version (HV). This makes it possible to connect these batteries in series up to 16 modules (465 VDC). This configuration can be used in UPS systems, propulsion applications and solar energy storage.
M12 AND RJ45
The communication connections between the batteries and Master unit can be established with either economical RJ45 cables or more robust M12 cables. Up to 96 V both options are available. In the range higher than 96 V only the M12 option is available.
SAFETY
Each battery module comes with an integrated battery management system (BMS). This is an intelligent electronic module (slave BMS), that measures all cell voltages and temperatures to control balancing on both battery cell and module level. The battery modules communicate by a galvanic isolated CAN-Bus with the MG Master LV or HV (master BMS), which collects and monitors the status of all battery modules. If the measured values from a battery module exceed the limit, the MG Master will automatically take action to protect the connected battery modules.